United Divided is the fourth sculpture installed by the Palmerston North Public Sculpture Trust
The work, outside the Convention Centre in Main Street, was unveiled on February 28, 2010.
The piece consists of a powder coated steel pedestal on which four quarters of a glass fibre disc are mounted. The work is kinetic; the bright blue quarters dipping, rolling and rotating; sometimes coming together and then dividing in a continuous, seemingly random, wind driven performance.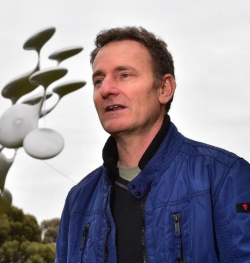 About the Artist, Phil Price
Born in Nelson, New Zealand, in 1956, Phil Price was educated in Christchurch and as an adult specialised in sculpture at the Canterbury School of fine Arts, graduating in 1990. He worked initially as an artists' technical assistant and then in a variety of positions in art education and composite engineering.
Since 2005, Price has focussed on his sculpture practice, working principally on large scale works for the outdoor environment. His name is synonymous with elegant wind activated kinetic sculpture. He is represented in numerous public and private collections throughout Australasia.